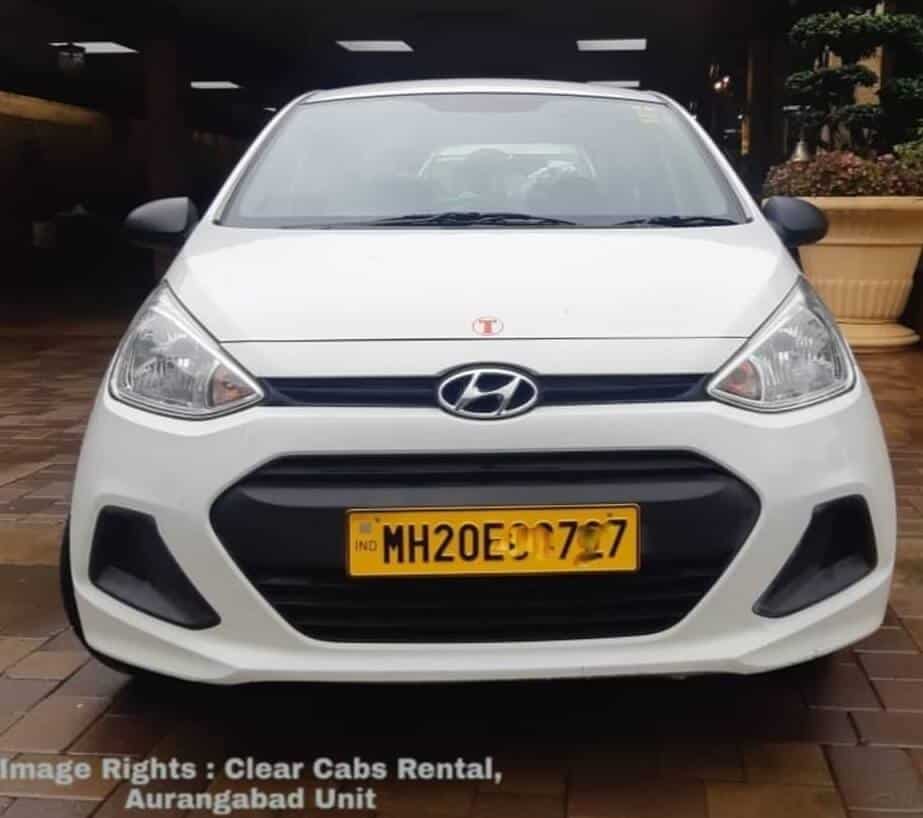 Book Taxi Service in Aurangabad
Aurangabad is tourism capital of Maharashtra and the Most famous tourist attraction in Aurangabad is the caves of Ajanta – Ellora
looking for cab service for Aurangabad sightseeing tour, then Clearcabsrental is Available in your service.
To Book taxi in Aurangabad, You Can Call Me At +91-8408841111 Myself (Mr Pranit) Or You Can Fill Contact Form given Below.
We have very affordable tour packages for our clients given below 
Clearcabsrental

Recommend

: If You Are Planning To Visit Ellora With Ajanta Caves In One Day, Then That is Very difficult, Because Distance From Ellora To ajanta Is 110 Kms Thus, We Always Recommend You to Visit 1st Day Visit Ellora Caves & Its Sightseeing & Then 2nd Day Ajanta Caves. 
Also, there are total five jyotirlingas near Aurangabad which are grishneshwar jyotirlinga Bhimashankar jyotirlinga, Trimbakeshwar jyotirlinga, aundha nagnath jyotirlinga & Parli Vaidyanath jyotirlinga below we provided more details for this tour
Our Best Selling Ajanta-Ellora 2 Days Tour Packages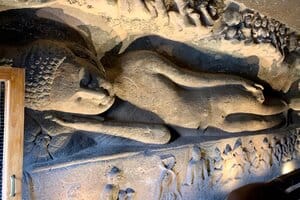 Day 1: We Will Explore Ajanta Caves First Day It Will Take Whole Day To Explore Caves Of Ajanta
The Ajanta caves are Buddhist cave monuments made with about 30 rock cuts.
The paintings and sculptures of Ajanta, considered masterpieces of Buddhist religious art, have had a great artistic influence.
Cab fare: Rs 2,700 for sedan cabs like dzire, Etios & xcent & Rs 3,600 for Toyota Innova 300 km Package
Distance & Time: Ajanta Caves  Located At 97 Km Distance From Aurangabad, Takes Between 3 to 4 Hours To Reach

Parking Charges: Rs 75
Also You Can Visit Our Aurangabad To Ajanta Cabs  Taxi Tour Package page For More Details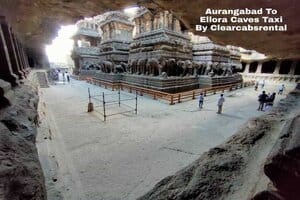 Day 2: We Will Explore Ellora caves On second Day
Excavated in stone by monks of three different religions more than ten centuries ago, the caves of Ellora form a World Heritage site.
It is the largest monolithic sculpture on the planet.
Taxi rates : Rs 1,600 for sedan cabs & Rs 2,000 for toyota innova 120 Km Included
Distance & Time: Aurangabad To Ellora Taxi Takes 28 Km Of Distance & 40 Min Of Time To Reach, & Takes 8 Hours To Explore Caves Of Ellora With Its Sightseeing 
Ellora Sightseeing Places: Daulatabad Fort, Bibi Ka Maqbara ( Mini Taj ) , Panchikki, Grishneshwar jyotirlinga, Bhadra Maruti ( Hanuman Temple ) 
Our Aurangabad to Ellora Tour Package Included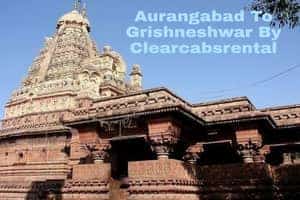 This is another shrine dedicated to Lord Shiva. This temple is one of the most important pilgrimage sites 
Distance & Time: Grishneshwar Jyotirlinga Temple Located near 30 km From Aurangabad, It Can Hardly Take 40 to 55 Min To reach.
Visit Our Aurangabad to Grishneshwar Tour Package Page For More Details.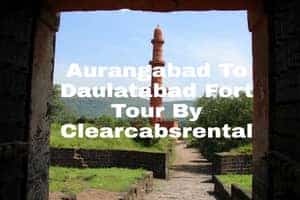 Daulatabad Fort is a 14th-century fort city in Maharashtra And also known as Devagiri or Deogiri, 
Distance & Time: Its a Located ancient hill fort Located 19 Km From Ellora Caves & It Approximately Takes 30 Min To reach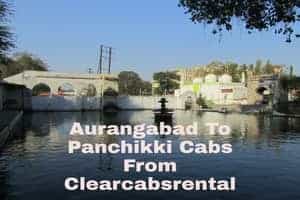 Panchakki, well known as the watermill, Also Located Very close from Bibi ka Maqbara 
Distance & Time: From Aurangabad to Panchakki By Car Takes around 20 Min, Its 6  Km Long Distance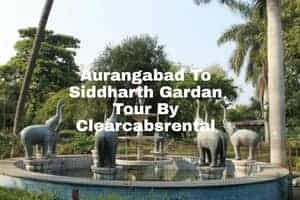 Beautifully landscaped garden in a strategic location in Aurangabad, Siddharth Garden Zoo is one of the popular places tourists, as well as locals, visit in the city
Distance & Time: from ellora to siddharth garden zoo around 26 to 29 Km, It Approx Takes 1 hour For travel by taxi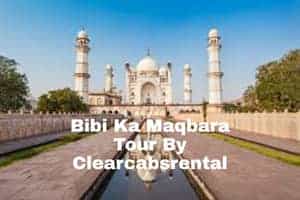 Bibi Ka Maqbara Also Called As Mini Taj
Distance & Time: its Located 5 Km from Aurangabad City, Takes 20 to 30 Min to Reach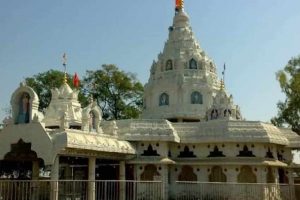 The temple is dedicated to Lord Hanuman who is represented in a reclining posture here.
Distance & Time: Bhadra Maruti temple, which is located at a Short distance from Grishneshwar Jyotirlinga Around 5 Km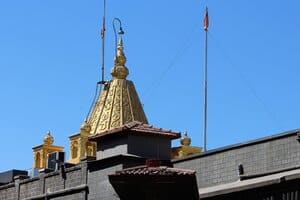 Shirdi, a small town nestled in the state of Maharashtra, is a popular destination among many tourists and devotees of Sai Baba.
Most of our clients comes not only from maharastra but also from all over india comes for shirdi darshan
Distance & Time: The town is only 125 km from Aurangabad and takes anywhere between 2 and 3 hours to reach by road.
Aurangabad to Shirdi taxi tour is made extremely simple with Clearcabsrental. 
Taxi fare: Rs 2,700 for sedan cabs like Dzire, xcent, and Rs 3,600 for Toyota Innova
We provide absolutely hassle-free taxi services in Aurangabad without any hidden or extra charges.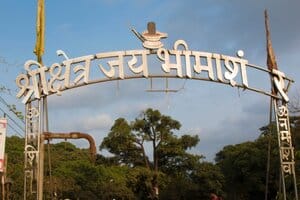 Located around 100 km from Pune, Bhimashankar is a popular temple town among devotees. It is one of the 12 Jyotirlinga shrines of Lord Shiva in the country.
Distance & Time: This town is located around 278 km from Aurangabad and it takes about 5 to 6 hours to reach here by road. Aurangabad to Bhimashankar taxi packages are easily available with Clearcabsrental at economical rates.
Cab fare: Rs 9 per km for sedan cabs like Dzire, xcent, and Rs 12 per km for Toyota Innova cab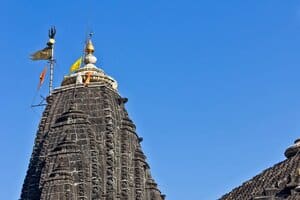 Trimbakeshwar Jyotirlinga temple is a Shiva temple located in the town of Trimbak.
Distance & Time: It is located at a distance of 337 km from Aurangabad and it takes about 5 hours to reach here. 
With Clearcabsrental, you can easily Book Aurangabad to Trimbakeshwar Taxi standing at your doorstep.
Taxi  charges: Rs 2,700 for sedan cabs like Dzire, xcent, and Rs 3,600 for Toyota Innova
For More Details, You Can Call Me At +91-8408841111 Myself (Mr Pranit)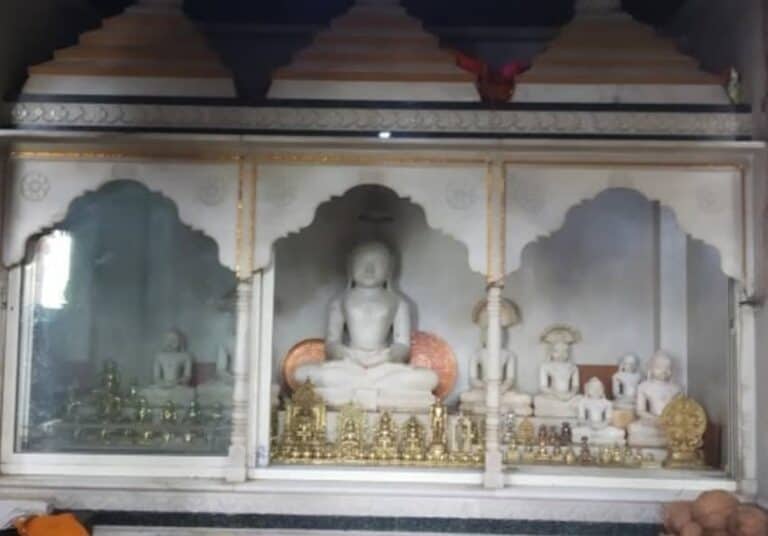 This temple is popular because the idol of Chintamani Parshvanath are installed here.
This idol was recovered more than 250 years ago from an underground basement.
Distance & Time: The temple is about
35 km away from Aurangabad and it takes 45 minutes to reach here. One can take a cab
with Clearcabsrental and enjoy a hassle-free ride.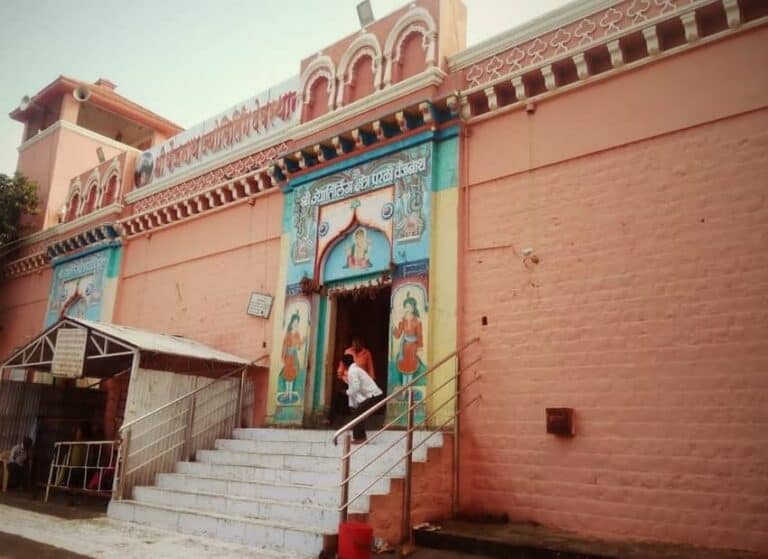 The ancient Shiva temple is built from stone on a small hill, and is protected by walls that
surround it from all sides.
Distance & Time: Want Aurangabad To Parli Vaijnath Temple taxi, can
contact Us and enjoy the 215 km ride from Aurangabad comfortably.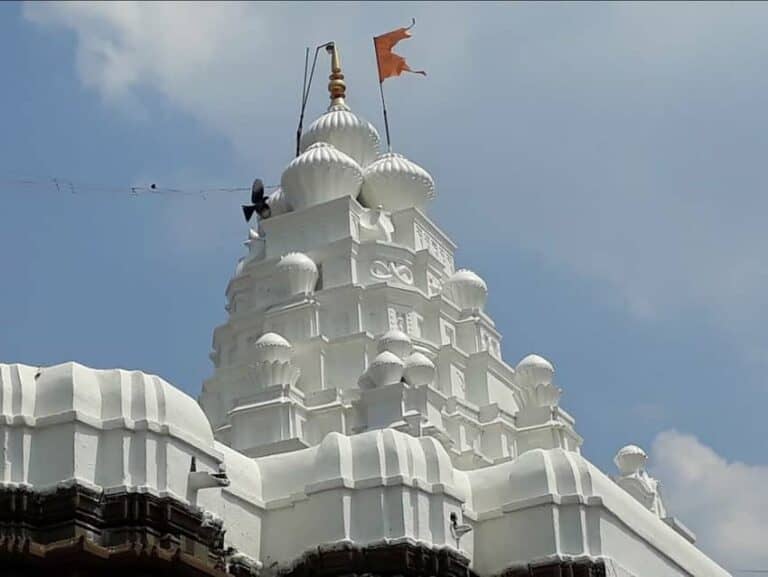 Home to an ancient Shiva Temple, Aundha Nagnath is a popular place of religious significance in the region.It attracts devotees from across the country.
Distance & Time: The distance between Aurangabad
and Aundha Nagnath is roughly 200 km and it takes under 4 hours to reach there.
Aurangabad To Aundha Nagnath taxi is very comfortable and one can get in touch with Clearcabsrental for
the same.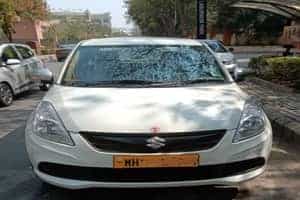 Cab Type : Sedan  ( Ac )
Passenger Capacity: 3 Adult +1 Child
Fare :  Our Sedan Cab Fare Rs 9 Per Km, Included Driver Night Hulting Cost
Included Charge: Toll, Parking & Driver Food Charges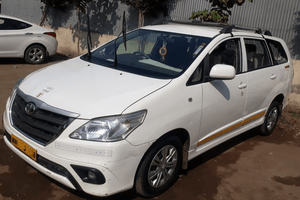 Cab Type : Toyota Innova ( Ac Fully Loaded )
Passenger Capacity: 6 Adult +1 Child
Fare :  Our Innova Cab Rate Rs 12 Per Km, Included Driver Night Hulting Cost
Included Charge: Toll, Parking & Driver Food Charges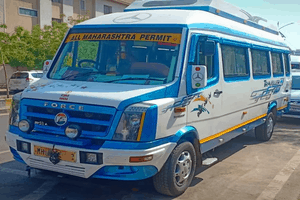 Cab Type : Mini bus ( Ac )
Passenger Capacity: 17, 21 & 27 seater
Fare :  Our Sedan Cab Fare Rs 16 Per Km, Included Driver Night Hulting Cost
Included Charge: Toll, Parking & Driver Food Charges

Pay After Service: You Don't Have To Pay Anything In Advance, You Can Make Payment After Trip Get Done in Cash Or Cashless.
Premium Cars : We Have All Types Of Sedan & Suv Segment Cabs Like Indigo, Dzire, Innova Available For Rent.
Professionals Experienced Drivers: Our All Drivers Are Very Friendly & Trained For Any Outstation Family Trip.
Lowest Rental Rates : We offering Lowest Rental Fares Compare To Other Car Rental Providers Because We Have self owend Cars for Rent.
Zero Cancellation Charges : There will be zero cancellation charges so don't worry if you change your plan.
How to Book Cab in Aurangabad with Clearcabsrental
Has booking a taxi been a nightmarish experience for you? Maybe that's because you have been going to all the wrong places which offer bizarre cab rentals and do not guarantee safety. But, with Clearcabsrental, you don't have to look any further. At Clearcabsrental, customer satisfaction and safety are top on our priority list. To ensure excellent services
We are based out of Maharashtra and we offer a range of cars to make sure that we meet the requirements of all our customers. Our offerings include mini cars, Sedan, and SUVs. Our staff driving these cars is immensely professional and is determined to give the customers a
delightful experience.
At Clearcabsrental we do not outsource our cabs. Rather, we own a fleet of cars and drivers who are verified and extremely trustworthy.
also determined to make the process of booking cabs as easy as possible for the clients. Therefore, we offer our cab rental services on just one phone call. 
You will just have to call on +91-8408841111 and they will have their desired car at their doorstep. At Clearcabsrental we also understand the importance of giving the customers an experience which they will never forget. In an attempt to give a magnificent ride to our clients, 
Clearcabsrental believe in owning our car fleet. We understand the hassles of outsourcing the cars from a third party and wish to keep our clients away from all sorts of unpleasant car rental experiences.
Aurangabad Outstation Taxi Fare
| | | |
| --- | --- | --- |
| Car Type | Taxi Fare | Included Km |
| Indica Vista | Rs 8 Per Km | 80 |
| Swift Dzire, Etios, Xcent | Rs 9 Per Km | 80 |
| Toyota Innova | Rs 12 Per Km | 80 |
| Tempo Traveller | Starting Rs 16 Per Km | 80 |
Toll Charges: There is no toll in Aurangabad for local sightseeing
Parking Charges: Excluded Parking Charges Like Aurangabad airport,railway station & Bus stand
Extra Km Charges: Rs 8 Per Km for vista, Rs 9 Per Km for xcent, dzire & Rs 12 per Km for toyota innova
Additional Details: drivers at Clearcabsrental has complete knowledge about the different tourist attractions in Aurangabad and its neighbouring areas. We're delighted to inform that with Clearcabsrental drivers, you do not need a guide if you wish to see the popular attractions in the city as well as the hidden gems.
All drivers are courteous and supportive and attend to the requests of all travellers, whether on work or leisure.
If you would like to explore the popular tourist spots like Ellora Caves, Bibi Ka Maqbara, Panchikki, Daulatabad Fort, Kailash Temple & Grishneshwar Jyotirlinga Temple, Clearcabsrental is a great option. Likewise, it is a great option if you want taxi for only few hours or for a day for office work.
Contact Form For Aurangabad Taxi
Meet Us At Our Aurangabad Office:
Auragabad Office Address: po.no 29/1 Near Anand Cement Products, Sangram Nagar, Satara Parisar, Aurangabad
Our Email address: Contact@Clearcabsrental.com                                   
Phone Number: +91-8408841111 (Mr Pranit)